His name may sound Slovak, but Michael Valek is Welsh. Having worked in the financial services for years, he today works at FMK in Trnava. What made him move to Slovakia? Does he miss Britain? Atteliér talked to Michael to learn more about him. 
Michael Valek is originally from Cardiff, Wales, the UK. He studied Economics at university in London and worked at the JP Morgan Chase bank, as well as Thomson Reuters. Michael moved to Pieštany in 2015, with his Slovak wife and children. He teaches English and Effective Communication at FMK today. He likes playing tennis and cycling. Piešťany and Donovaly are his favourite places in Slovakia.
You have worked at FMK for, roughly, three years. Not many people know you, though. How would you introduce yourself?  
I am originally from Cardiff, capital of Wales, Great Britain. I moved to Slovakia three and a half years ago and currently live in Piešťany. I studied Economics at university in London, and after that I started looking for a job. I had no idea what I actually wanted to do and ended up getting a job in an investment bank, which is now called JP Morgan Chase, a huge global bank. Then I had a few similar jobs and worked in the industry for around 25 years in total.
But you also worked for Thomson Reuters, a journalistic news and financial company. 
I got a job in Thomson Reuters in 2000. Even though it was connected with journalism, I worked in a financial side. At the end of my job there I moved to Slovakia in 2015.
"I do not feel I am only from the UK, but also that I am a little bit of here."
Why?
My wife is from Piešťany. We met in the UK back in 2005, when she had chosen to come to improve her English and gain some work experience. She managed to get a job in the same company as I was working, so we met there and a couple of years later got married in her home town.
Did you not want to move to Slovakia? 
We visited Slovakia pretty often after, especially during the holidays. And she had always said that one day she would like to move back to her home country to be closer to her parents, and relatives. Of course, as a good husband I said "yeah, sure, in future no problem". Probably, I did not really think it would actually happen!  However, I do like it here: the culture, the nature, the weather, especially. So, when the opportunity came, we decided to move and see how it would go.
The beginnings in a new country are always difficult. Where had you worked as a foreigner in Slovakia before FMK?
I had a few jobs similar to the ones I had had before – financial services in Bratislava. But later I realized that I really had enough of that in the industry and wanted to do something different, more rewarding, more satisfying, and more interesting. Later, I was lucky enough to hear about a job here, when FMK was looking for a native English speaker. At the end I was fortunate to get the job, working in the International Relations department.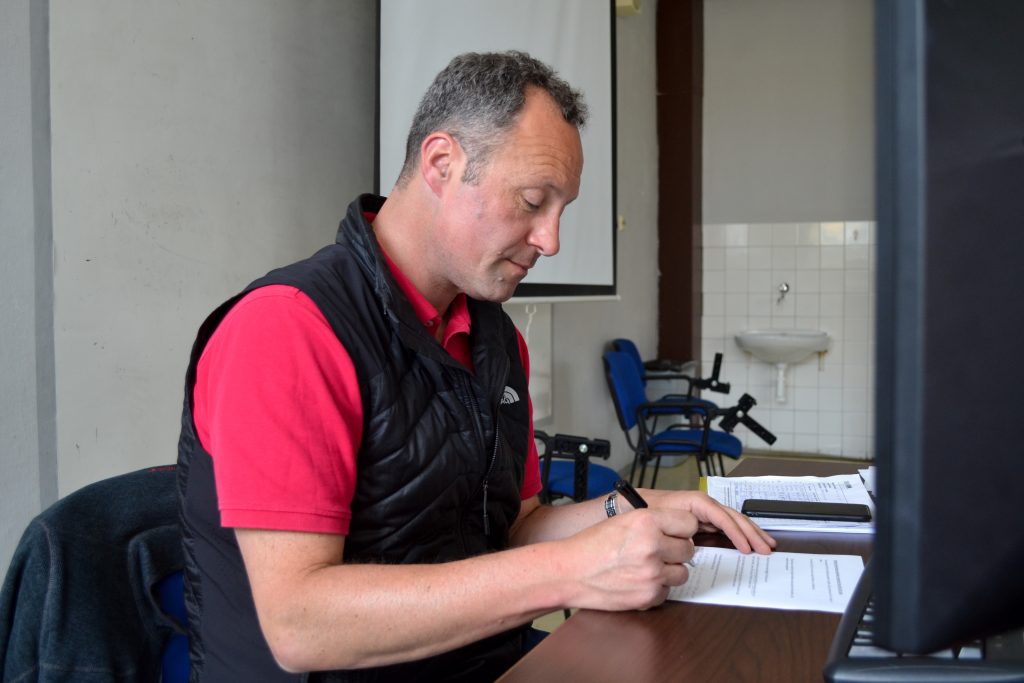 It must have been another big change in your life, moving from the financial services to education. 
After 25 years of working in just one field, especially in the financial industry, I realised I had enough of that, and wanted to do something that would satisfy me more and contribute to the education of young people. It seemed like the exact right time to try passing on some experience, and skills, and knowledge that I learned from that field to younger people.
At FMK? 
I was not really looking for a job in university, it just happened like that. Since then I have also been asked to teach some courses like Effective Communication, which I really enjoy.  I find the university and our FMK faculty in a particular a perfect place. It is much more refreshing, rewarding, gives you time to think, which is very important.
How do you find Piešťany where you live now?
I really like living in Piešťany for the friendly atmosphere in the town. There are lots of parks, also easy access to nature so you can cycle everywhere, walk by the river, visit any of the big green areas. Also, the weather, especially in summer, is pretty nice, and there are some events and festivals happening there. Moreover, you can spend the day by the big lake.
"I would not say that I miss living in the UK. I cannot also say that I miss British culture as well."
And what about Slovakia? 
Speaking about Slovakia generally, I like all the same things about it, just on a larger scale. You can do plenty of activities like skiing in winter. In less than 3 hours you can be in Vienna, Budapest, and Prague. Everything is pretty close by as Slovakia is right in the heart of Europe.
What is your favourite place to visit in our country? 
Speaking about Slovakia, I can say that Donovaly is one of my most favourite places to go. I find it perfect for skiing, hiking, relaxing, and just having fun. There are a lot of nice places in the country that students tell me about all the time, and I would like to visit all of them.
What do you enjoy doing in your leisure time?
I can call playing tennis my main hobby just like cycling. I played a lot of tennis in the UK and continue to do that here. I used to play some representative tennis back in Wales for teams, clubs, regions, and now do the same here in veterans' category. Also doing sport makes things a lot easier when you go to different places and meet with locals. It gives you something in common with people that you do not know. You turn up and make some new friends hopefully with the same hobbies. And, of course, I enjoy travelling internationally, and I have visited countries like India, Philippines, the USA.
But you must miss your home country and culture, right?
I would not say that I miss living in the UK. For sure, I miss some of my friends, close family. But these days, thankfully to technologies and things like FaceTime, it's very easy to stay in touch. So, it really shrinks distances between people nowadays. It makes moving to a different place a lot easier. I cannot also say that I miss British culture as well. Although, when I go there for holidays or just for some reason, I appreciate the things more than when I lived there, a bit like nostalgia. So, these days I feel like I have two homes. I do not feel I am only from the UK, but also that I am a little bit of here.Having two homes is better than having one. When I am there, I miss here. And when I am here, I miss there.
What place in the UK do you miss the most?
I would say that my hometown, Cardiff. It's a nice mixture of size, with a wide range of facilities. It is not too big, maybe the same size as Bratislava, close to the sea, national parks. Obviously, I like London; everybody likes London. It's a big place, it's different, interesting, and has a lot of things to do and see in there.
Súvisiace príspevky